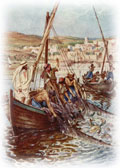 But when the Divine Love enters into it, and it becomes permeated, as it were, with the Divine Essence, then it takes on the Divine nature of the Father, and to the extent that it receives and possesses this Love it becomes at-one with God and ceases to be a mere image, and becomes transformed into the substance.
The soul in this condition is altogether a different entity from the soul in the condition in which it was created, and no longer is subject to the dominion of either the mind or of the animal appetites and desires, and, hence, the spirit possessing such a soul is, in essence, a part of the Father, or as Jesus said, is in the Father and the Father in it.
Now, do not understand that such a soul is the soul that man originally possessed with increased development of purity and goodness or freedom from sin, because such is not the case. Such soul by such transformation becomes a new thing, and never again can it relapse into the soul of man's origin.

---