God, The Heavenly Father. God is Soul, Soul is God, the Soul that is Deity and Self-Existent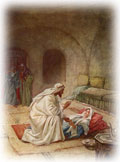 Well to begin, God is Soul, and Soul is God. Not the soul that is in the created man, but the Soul that is Deity and self-existent, without beginning or ending, and Whose Entity is the one great fact in the universe of being. There is nothing in all nature with which men are acquainted or have knowledge of, that can be used to make a comparison with this Great Soul, even with the spirit perceptions; hence, for men to conceive of God as having a form in any manner resembling that of man, is all erroneous. Only those, who deny the anthropomorphic God in their beliefs and teachings are correct.
God is in back of force and principle and law, which are all only expressions of His Being, and which could not exist without Him. These expressions are only existences; changeable, dependent, and subject to the Will of God, Who only Is Being.

---