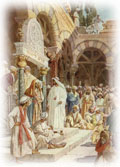 I was not born with the knowledge that I was the son of God sent to earth to teach these great truths, or to announce to mankind the rebestowal of the great gift of immortality, and the means of acquiring it.
But this knowledge of my mission came to me after I became a man and had the frequent communions with God by my spiritual senses.
I was never in the presence of the Jewish priests, expounding to them the law and asking questions when about twelve years of age, as stated in the Bible, and not before my first appearance, after I became a man did I attempt to show priest or layman, that I was the messenger of the Father, and sent by Him to proclaim the glad tidings of immortality restored and of the great love of the Father which was necessary to make all men at one with Him, and to give them a home in His Kingdom.
I never was a sinful boy or man, and did not know what sin was in my heart; and strange as it may seem, I never sought to teach others these truths until after my mission was declared by John the Baptist.
---